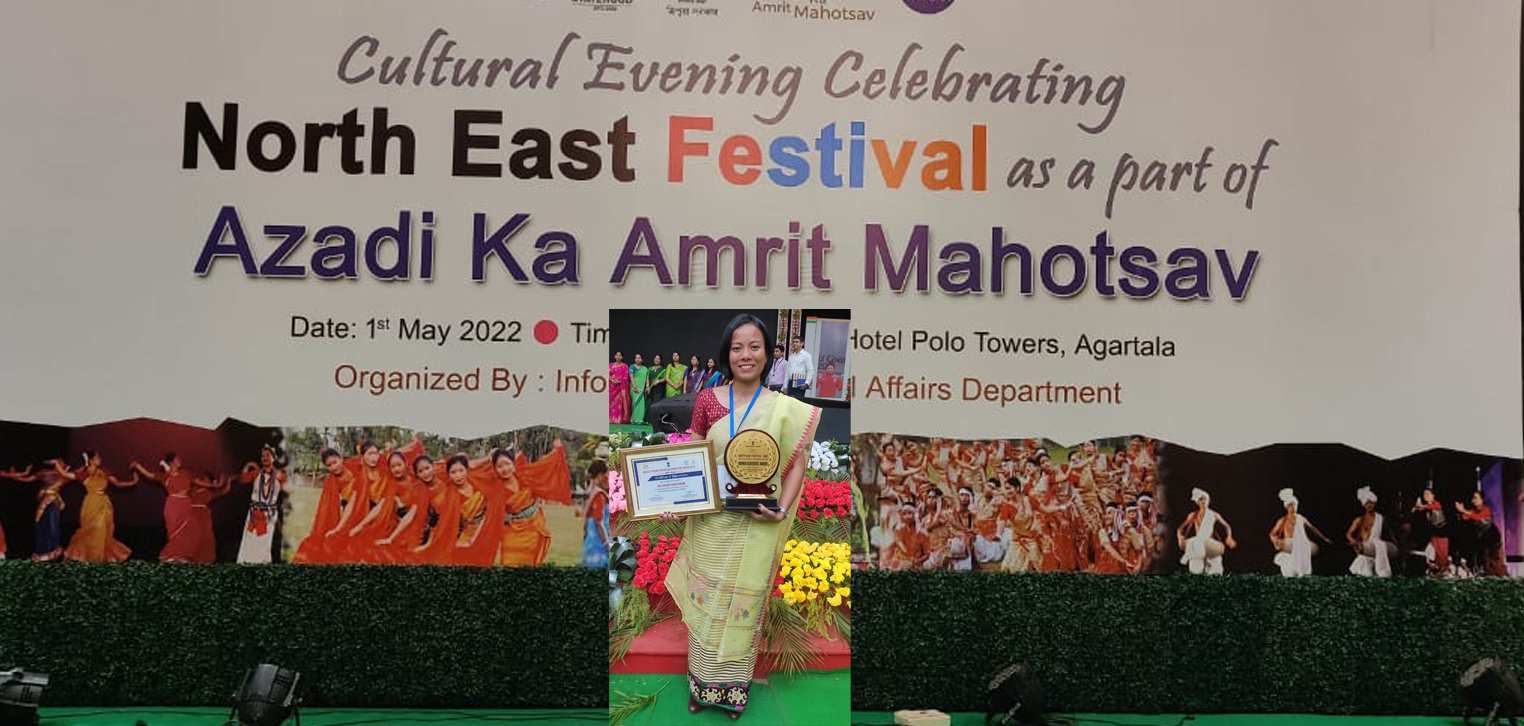 During the North-East festival organized in Agartala as part of Azadi Ka Amrit Mahotsav, Ms. Nirupa Sanjenbam from Manipur was recognized as a Woman Achiever. The theme of the event was "Role of women in the development of North-East."
The event was attended by key dignitaries including Shri Harpreet Singh, Joint Secretary, Ministry of Development of North Eastern Region, Government of India, Air Marshal Anjan Kumar Gogoi, Honourable Member, NorthEasternCouncil, and Shri Jishnu Dev Varma, Honourable Deputy Chief Minister, Government of Tripura. Ms. Sanjenbam is a graduate of Calcutta University and completed a Post Graduate Diploma in Entrepreneurship and Foreign Trade from Manipur University in 2021. She was nominated from the state by the Social Welfare Department, Government of Manipur.
In her role as a Project Coordinator for the MaolKeki Foundation, supported by partners such as the Agri Entrepreneur Growth Foundation - AEGF, AnahaTrust, National Bank For Agriculture & Rural Development and Sattva, Ms. Sanjenbam has been championing the development of farmers and AgriEntrepreneurs in various districts of Manipur. Most prominent of these is the Veg in a Basket agribusiness which acted as a lifeline for thousands of Imphalites by delivering farmfresh vegetables to many stuck at home during the Covid lockdowns. Recently, she has also been instrumental in the launch of Pukkei Agribusiness which provides machinery rental services and locally made high quality compost to Manipuri farmers. Another initiative currently being piloted under Ms. Sanjenbam's leadership is the NoneyBananaCompany that aims to improve banana productivity and explore the use of banana fibre for handicraft and handloom products.
Please join us in congratulating Ms. Nirupa Sanjenbam for this recognition and wish her continued success. It is the drive, energy and commitment of women like her that is instrumental in the development of Manipur and the North-East.