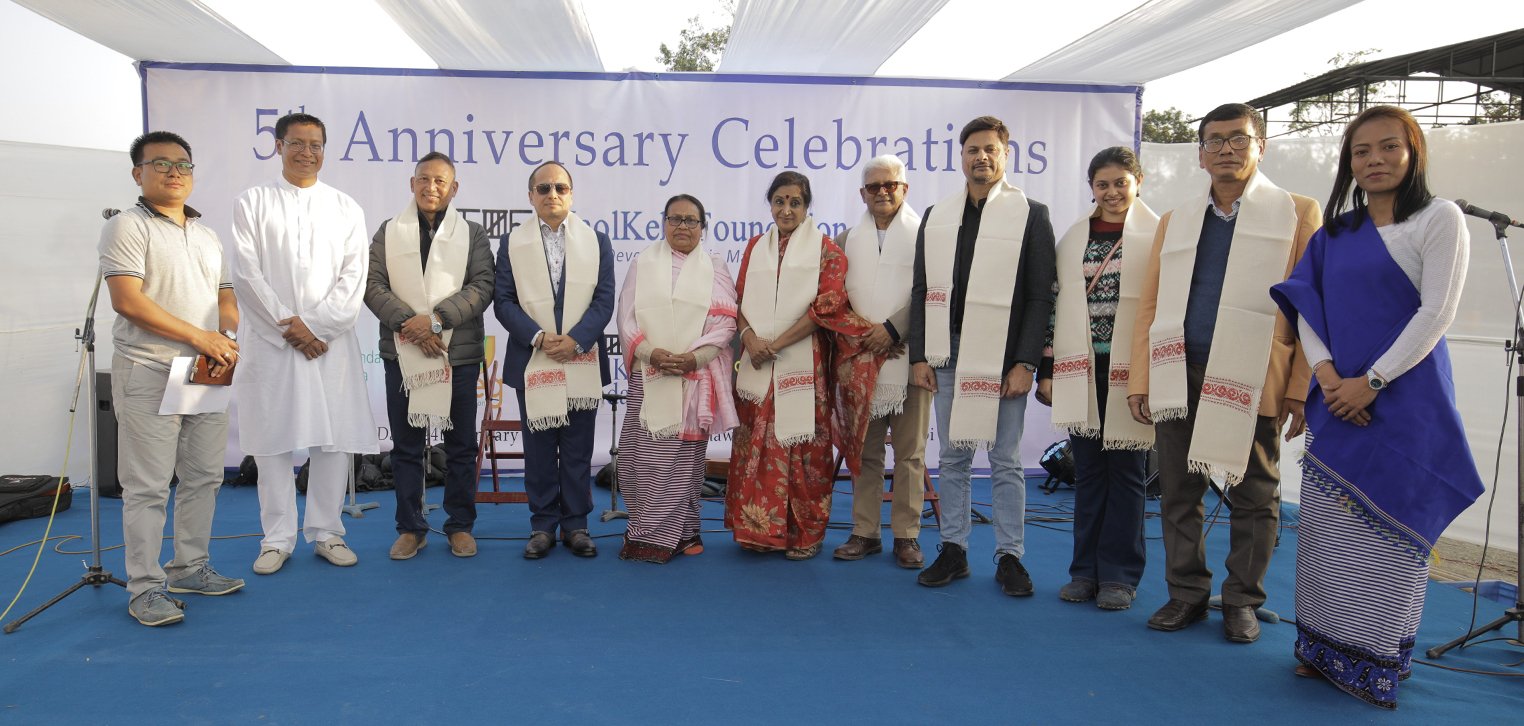 MaolKeki Foundation celebrated its 5th Anniversary on 24th January with a small gathering of its long-term supporters, stakeholders, farmers, Agri Entrepreneurs, friends and family representing people from both the valley and hills of Manipur. The event commenced with a prayer offering and lighting of a candle in front of a bust of late Dr. Gurumayum Tonsana Sharma - founder Trustee who also coined the name MaolKeki by amalgamating his parents' names - by Gurumayum ongbi Hidangmayum Bidyakumari Devi, a Trustee of the MaolKeki Foundation. The event was graced by Shri Thounaojam Basanta Singh, Honourable Minister of Education, Law & Legislative Affairs, Government of Manipur, and key dignitaries who attended the event included Mr. Balagopal Chandrashekhar, Mrs. Vinita Nambiar and Mr. Anup Bansal from Anaha Public Charitable Trust, Ms. Iman Bhattacharya from Sattva Consulting, Dr. Irengbam Meghachandra Singh from the Indian Council of Agricultural Research, and Mr. Yumnam Rupachandra from Impact News.
Dr. Shachi Gurumayum, Trustee, shared the journey of the MoalKeki Foundation, from its small beginnings working to bring rural transformation through last-mile agriculture and health to today when it has trained over 5,000 farmers, provided basic health services to nearly 4,000 individuals and is active in 14 out of 16 districts in Manipur. Dr. Shachi also shared personal stories of how the seeds of philanthropic services for the greater good were planted in his family generations ago when his maternal  grandfather, late Dr. Dwijamani Dev Sharma sold all of the family's paddy fields to raise  funds to establish a women's college in Imphal. The college was named after his mother, Hidangmayum Ghanapriya Devi, which today is popularly known as G. P. Women's College. 
The highlight of the evening was the release of a song whose original concept and lyrics were written by late Dr. Gurumayum Tonsana Sharma called Khurumjari Ema, composed by Mangangsana Mayanglambam and sung by Mangka, one of Manipur's most talented and iconic folk artists. The event closed with Dr. Shachi thanking all of the MaolKeki Foundation team members for their hard work in making the event a great success, and those present for their support, encouragement and inspiration. 
About MaolKeki Foundation
MaolKeki Foundation is a pioneering organization established with the purpose of catalysing positive development in Manipur primarily in the areas of agriculture, education and healthcare. MaolKeki Foundation is registered under the Indian Trusts Act, 1882, and more information can be found at http://www.maolkekifoundation.org